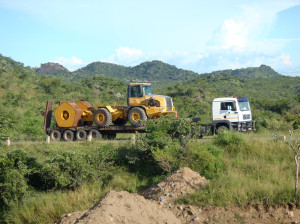 Soil Solutions has been sub-contracted by Mota-Engil for Earthworks for Construction of Section 3 under the Nacala Railway Corridor Project comprising a new line of approximately 140 kilometers between the Malawi – Mozambique border near Mwanza to Nkaya Junction. The initial scope of works includes the compaction of one million cubes of layers of fill material for the construction of the new railway line.
The entire Moatize-Liwonde-Nacala Railway Corridor Project comprises of 906 kilometers of railway from Moatize Mine in Tete to the Nacala Port in Mozambique passing through Malawi's Mwanza, Neno, Balaka and Liwonde is being managed by Vale Logistics. The project according to Mota-Engil's contractual matters manager Noel Phumisa is one of the largest within southern Africa and employs people from Portugal, South Africa, Mozambique, Thailand, Zimbabwe as well as locals.

Dynamic compaction allows for significant cost and time reductions while achieving a higher specified density and compaction than traditional methods.Soil Solutions will introduce High Energy Dynamic Impact Compaction technology for the completion of the Earthworks and compaction requirements of the project. Dynamic Impact Compaction is the process where high levels of energy are imparted to the ground at a low frequency, to achieve higher degrees of compaction at greater depth than possible with the use of traditional compaction equipment.
Soil Solutions concluded the first step of site establishment of the compactors and haulers IN February 2014, and has already started the compaction work on the first area.   The introduction of Soil Solutions and its Dynamic Compaction technology will increase the efficiency of the project and reduce work timelines thereby assisting with efforts to conclude project by August 2014.
Soil Solutions is proud to be working with Mota Engil on this important project and to have another example of providing our Value Engineered Solutions.
For more information regarding High Energy Dynamic Impact Compaction
please visit Dynamic Compaction or contact us on info@SoilSolutions.com